In Goblin Scout, M.E. Hearrold II tells a character-driven tale of comedic fantasy misadventures.  This book is dialogue-centric, and the interactions between the many colorful personalities are the key feature of the story.
Goblin Scout is a charming tale of a group of goblins thrust into the role of unlikely heroes on a quest to deliver three characterful goats.  From the beginning, the characters are both lovable and laughable. This humorous take on the fantasy genre spins a welcome and refreshing new yarn.  Any fans of Piers Anthony, Terry Pratchett, or Douglas Adams will quickly fall in love with this book.

Upon beginning the book, you may notice unconventional dialogue being spoken by the namesake goblins in the book.  Do not fret! This vernacular not only becomes easy to read within a few pages, but it serves to establish the color of the setting and the characters.  Once you let yourself get wrapped up in both the dialogue and the expertly crafted prose, you will soon come to appreciate and enjoy the unconventional word-craft.

Most notable among his accomplishments, Hearrold manages to take several fantasy tropes and turn them upside-down.  He is obviously not only well-versed in the genre, but is also deft at examining these tropes and manipulating them into something entirely new.  Goblin Scout is not only a fun read, but serves also as a unique dissection of common themes found in the genre.
There was only one quality of the book that was less than ideal in my mind, and that was the main plot itself.  While the story excels at exploring the characters and their interactions, the plot lacks certain sense of urgency to propel the characters forward.  Given that the goblins in question would much rather sit around drinking, eating, and sleeping; the pacing most likely was an intentional decision to suit these moods.  It does, however, cause the story to lack a certain tension and excitement. I would like it to the television series Seinfeld, but with goblins!
If you love fantasy, comedy, or both; Goblin Scout is definitely worth picking up.  Don't approach it expecting a lot of action or conflict, but rather approach this as a study of fantasy tropes and a situational comedy starring wonderfully characterized goblins — and goats — in a series of zany misadventures.
---
---
Favorite Quotes:
"Everybody knows that Red Cap makes the best chunks."
"Lord Tubb Tubb says fer ya ta tell Botch dat he is a base born rogue an dat he won't take no slur on his honor from no chattel."
"Not the, I just slept on my arm wrong, kind of hurt.  But the, someone has taken my skin off, turned it inside out, and slipped it back over my bones, kind of hurt."
"Only thing Pickle knows is dat Pickle wants another crummypet and wants one bad.  Pickle is goin mad wit da hunger."
---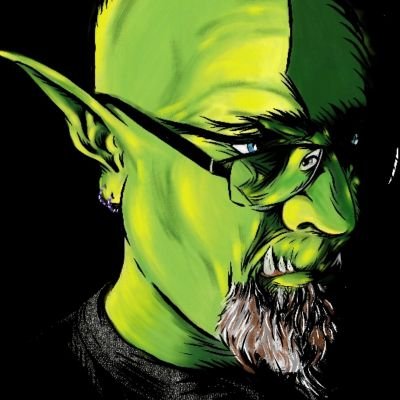 M.E. Hearrold II is both an author and an artist.  When not plagued by the voices of his goblin minions, he spends time as a pygmy goat herder.
You can find Goblin Scout on Amazon, and follow M.E. Hearrold II on Twitter and Facebook.
---
About The Reviewer
B.K. is a full-time author of science fiction, fantasy, and horror inspired by the pulp fiction magazines of the early 20th century.
Find out more about B.K. at bkbass.com and you can interact with him on Twitter and Facebook.
---